D4.11 (EntityTopic, 13)
From Hi.gher. Space
D4.11 is a 4D CRF polychoron with 24 J91 cells in demitesseractic symmetry. It is related to D4.10 via a slight modification of its lace tower. Its cells are 8 stauromesohedra, 24 bilunabirotundae, 32 tridiminished icosahedra, 32+8=40 octahedra and 32+8=40 tetrahedra. Its faces are 96 pentagons, 48 squares and 32+96+32+32+96+96+32+32=448 triangles. It has 48+96+96+96+192+96=624 edges and 32+96+48=176 vertices.
Lace tower
   x3o3o
   f3o3x
   o3x3f
   f3x3x
   x3F3o
   x3o3F
   F3x3o
   o3x3F
   F3o3x
   o3F3x
   x3x3f
   f3x3o
   x3o3f
   o3o3x

Projections
Centered on an axial tetrahedron: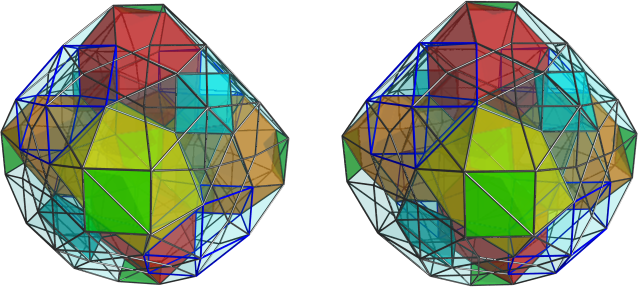 Showing equatorial J91's: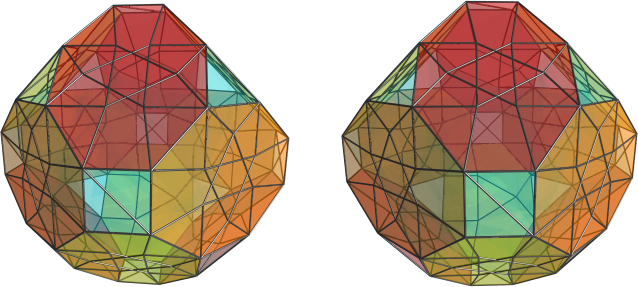 Construction from snub demitesseract
D4.11 can also be constructed from the snub demitesseract in the following manner:
Firstly, write the snub demitesseract in its full demitesseractic symmetry as
   x3o3o*b3f
   f3o3x*b3o
   o3o3f*b3x

Then, apply a caleido-faceting to the first node:
   x3o3o*b3f -> (-x)3x3o*b3f
   f3o3x*b3o ->    f3o3x*b3o
   o3o3f*b3x ->    o3o3f*b3x

And finally, apply a partial Stott-expansion to the first node:
   (-x)3o3o*b3f -> o3o3o*b3f
      f3o3x*b3o -> F3o3x*b3o
      o3o3f*b3x -> x3o3f*b3x

The result is D4.11, represented in full demitesseractic symmetry: oFx3ooo3oxf*b3fox&#zx.
Incidence matrix
Usage as facets
This polytope does not currently appear as facets in any higher-dimensional polytopes in the database.
Software models