Everywhere I've read about how 2D beings could infer 3D by looking at a 2D projection of a 3D object, I was then shown such a projection seen from... above in the third dimension, like this image: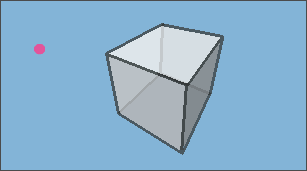 Then, implicitly or explicitly, the author tells me that this is the image that the 2D being would see and interpret. But wait... there is a little problem. '2D humans' cannot see their flat world from a 3D point of view, they only have a 1D retina which gives them a 1D view of their world.
This is (imprecisely drawn by the hand) how they would see this projection if they were at the pink dot's position:

(assuming that the blue color was some transparent air and that the edges of the cube are not drawn, only the vertices.)
If they had two eyes, they could feel some depth, feel how far from them each vertex and edge is but this is the best vision they can have of a 3D to 2D projection!
Right so, it's not only hard for them to infer a 3D vision from this, it's... impossible. At least it seems to me. Even for us who are used to 3D, we will never see a 3D cube from this line. Even if we can rotate the cube and see the 2D depth with parallax.
Now what about us? If my correction is correct and if the analogy is valid, it means that the projections of 4D objects that us 3D beings can see from inside our 3D world with our 2D retinas look very different than if they were seen from 'above' in the 4th dimension. We see these projections from a very bad point of view, making them totally not insightful. They will not let us get that feeling of seeing in 4D that we are after.