For a while now, I've been wondering about an extension of the Johnson solids where 1:1:√2 isosceles triangles (I call them Q-triangles) are allowed as faces in addition to the usual regular polygons. It's a kind of reverse-dimensional-analogy from 4D, where we have (at least) 3 different kinds of triangle analogues allowed in CRF polytopes: the regular tetrahedron, the square pyramid, and pentagonal pyramid. Better yet, recently my wife bought a set of magnetic tiles for my son, having squares, triangles, and Q-triangles, so I got to actually playing with actual physical constructions of these polyhedra.
Obviously, a good number of Johnson solids can have some triangles replaced with Q-triangles and remain convex, but those are not as interesting because topologically they aren't anything new. The more interesting cases and where the Q-triangles permit new topologies not possible with equilateral triangles. Here are some cases that I found:
1) (Irregular) hexagonal bipyramid:

Thanks to the shallower angles of the Q-triangle, it actually allows 6 polygons per vertex while still remaining convex, so it's possible to construct a hexagonal pyramid out of it, albeit the hexagon is not regular so it needs to be "covered up" by a bipyramid or an elongated bipyramid in order to remain under the restriction of regular faces or Q-triangles only. Note that this particular arrangement around the apex (2 pairs of Q triangles interspersed by equilateral triangles) is only one of several options, all of which gives rise to various hexagonal bipyramids and other constructs.
The purple edges indicate where the long edges (√2-edges) are.
2) The hexo- complex from (1) is quite flexible; it can replace the corona in the sphenocorona (J86) to produce what I call a "sphenohexona":

The hexagonal cross-section is almost, but not quite, planar. The long √2 edge allows the tips of the spheno complex to meet at a common apex; whereas in J86 a slightly larger corona complex with an intervening edge is need to bridge the gap.
There's also a hebespheno variant, that I haven't constructed in digital form yet. :-)
3) Hexagonal spicamesocorona: this one is a novelty I discovered, which is quite interesting in several respects: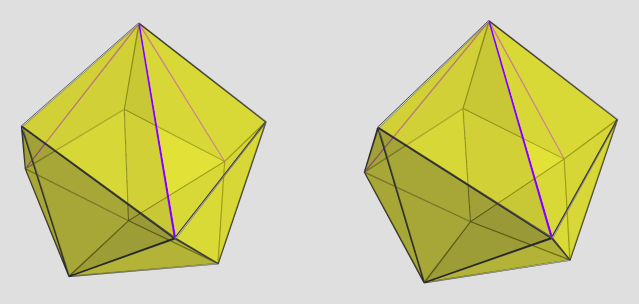 From the name:
spica
(Lat. "spike") refers to the apex pictured here, made from 6 Q-triangles with their long edges meeting at a common vertex, and closed up below from a 10-triangle
corona
larger than the 8-triangle corona in J86, but smaller than the 12-triangle corona in J88, so I dubbed it a mesocorona.
It has trigonal symmetry, and can be thought of as 3 pentagonal pyramids modified to have a √2 edge each, glued together around the √2 edge and closed up with a unit triangle at the bottom.
It can also be analysed as half an icosahedron (the mesocorona) glued to half of a cube: 3 square faces that have been split along their diagonals into pairs of Q-triangles so that the two pieces will close up. So kind of like a chimera of an icosahedron and a "broken" cube.


Alternatively, it can also be thought of as an icosahedron where a cluster of 4 triangles were removed, and 6 of the surrounding triangles distorted into Q-triangles and sharpened into a spike. So a "sharpened" icosahedron.

In any case, it's very pretty IMO, one of the prettiest I've found so far.
------
In addition to the above, I've also found several highly-irregular constructs with new topologies that I can't quite remember; I'll post those when I manage to reconstruct them again.

(The little boy destroyed them before I could note them down, so I have to reconstruct them from memory!

)